Microsoft Windows Server 2008! Yes! It is correct. Today we are going to install the Microsoft Windows Server 2008 Beta 3! This is not an official release of the final retail version. So, some of my content may not be accurate if you compare with the retail version.
Quoted from here. Of course, you can expect some "unexpected" delay on the launch date or the product arrival date… but that's another story 🙂



Just announced at the Worldwide Partner Conference, Windows Server 2008 will be launched jointly with Visual Studio 2008 and SQL Server 2008 on Feb. 27, 2008, in Los Angeles. As the most important enterprise launch in company history, this will kick off a "launch wave" of hundreds of worldwide events hosted by Microsoft. Read more.
Things that you need to do the installation is a computer at least with Pentium 4 HT or Dual Core, 1GB RAM, 10 GB hard disk space (inclusive 5GB system used). Most important, the product key! Once you get all things in your hand. Insert the installation DVD into your optical drive and boot the computer from it. You will see the screen as captured below. Select your preferred language, currency and keyboard layout and start the installation.

After you key in your product key, you will have 2 installation options which is full installation or choose to install the core component only. If you are unsure about this, just click the full installation and click next.
The rest of the installation process is pretty easy. Accept the licensing terms, click Next for a few times. The installation will run all the way to the end. It took me around 35 minutes to get into the desktop screen(installation on virtual pc). Nothing challenging. No difficult term for you to guess. No more boring blue-screen installation. Never ask you to enter any information except product key. No pre-settings needed. NTFS will be the default file system. Indeed, it is a very user friendly installation. Microsoft did a good job on this! The system engineers now will have more time for online games system compatibility testing!
I like this installation, it is easier compare to previous windows server version. Even compare with Windows Vista, for this server you do not need to do any diskpart or any command line to get the hard disk formatted. Aha! It is so simple to install Microsoft Windows Server 2008. Even my 5 years old little brother who know how to type and click can install it!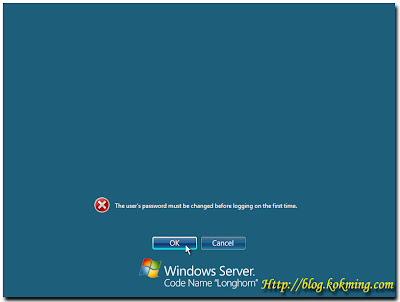 Next post, I will show you something beyond the desktop screen 🙂 Stay tuned.
Happy Installation!!
The next step to do after the installation of Microsoft Windows Server 2008. You need to reset the Administrator account password. Here, I spotted something new! You can create a password reset disk or use a server builder which makes the task even more complicated! Dude, this is so nice! From now on, we do not need to download 3rd party tools to reset the administrator passwords which is set by our managers! Yes! Password cracking is easier! Thanks Microsoft! LoL. Do not abuse the tools. Use it in a good way, please. Ok?
After you change the password, you shall reach to the desktop. Nothing fancy, the background color is ugly. I don't like it. Who the hell pick this default color?!
The first thing I do is… Select a wall paper, to replace the default blue color background. It looks a lot more better now, right?
I checked with the Server Manager window, I found a lot of things to configure. Well, basically nothing to highlight for normal user, more toy for the system engineers only.
The start menu is inherited from Windows Vista. It is clean and simple. Ah! Not to forget, the beloved Shut-Down Event Tracker is still exist…
I don't know why I needed to fill up the reason when I want to shut down my server. It is totally P.O.S. (Piece of Shit!) . Although it can be turned off manually but I dislike Microsoft enable it by default. It is an annoying tracker… forgive me if you treasure the tracker very much.
Yes. These are the shut down screen and the login screen. It looks pretty boring isn't it? Especially with my 19″ LCD, these screen looks extremely plain! They should have something like the DVD menu, some animations or movies display … Anyway, it is not a big deal. We can stand the boredom. :xd:
That's it. Nothing fancy. Nothing interesting if you have nothing to do with the server. Basically, it is good because it simplified most of the things. You need to configure it only when you need to do so.
Happy Exploring!!
Last week, Microsoft officially release the latest version of Visual Studio codename "Orcas". It is Microsoft Visual Studio 2008 Professional Edition Beta 2.



Visual Studio 2008 delivers on Microsoft's vision of smart client applications by letting developers quickly create connected applications that deliver the highest quality rich user experiences. This new version lets any size organization create more secure, more manageable, and more reliable applications that take advantage of Windows Vista, 2007 Office System and the Web. By building these new types of applications, organizations will find it easier than ever to capture and analyze information so that they can make effective business decisions.
Yes! I got the DVD image from the Microsoft MSDN downloads site. The installation goes pretty much same as the previous version. It takes around 4.5GB disk space to install it. The first time fire up the Interactive Development Environment (IDE), it will ask you to choose the default environment settings.
Immediately, I spotted a good feature! For new every new project, you can choose which version of .NET framework that you wanted to use! Yes! Finally, they concern about the compatibilities. It really save the efforts of switching .NET Framework version for the sake of new IDE! Previously, in order to enjoy the new version of Visual Studio, you have to "upgrade" your project to the newer .NET Framework! Fortunately, now we have a painless migration(from 2005 to 2008) to new IDE!
With the .NET Framework 3.5, you have more templates(VB.NET and C#.NET) for Office 2007. It is really ease the developer to create seamless office integration application or add-in.
You can check here for the Feature Specifications for Visual Studio 2008 and .NET Framework 3.5.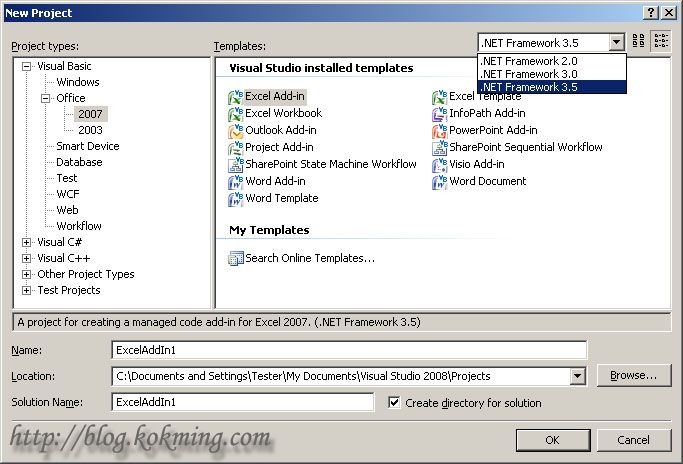 A quick run of the new IDE. It is not much different, I got pretty disappointed because I was expecting something like 'ribbon' from Microsoft Office System 2007… Oppsss! Wait a seconds! I found something new on the menu bar. That is a TEST menu over there! Wow! We can do unit testing with the new IDE! That's cool!
The last thing I found before I turn off my virtual machine is the LINQ object appears in the Web Project control/object toolbar! Yeah! That's good! More toys for the developers!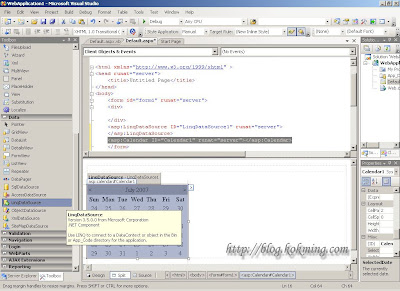 Since it is a beta release, I do not want to use it for the actual development. Furthermore the .NET Framework 3.5 is a beta version too. It is always risky to use beta version software. Basically, if you are staying in front of the technology field, you should consider to be an early adopter of the newest version of Microsoft Visual Studio 2008 (code name Orcas).
Happy Programming!!