Microsoft Windows Server 2008! Yes! It is correct. Today we are going to install the Microsoft Windows Server 2008 Beta 3! This is not an official release of the final retail version. So, some of my content may not be accurate if you compare with the retail version.
Quoted from here. Of course, you can expect some "unexpected" delay on the launch date or the product arrival date… but that's another story 🙂



Just announced at the Worldwide Partner Conference, Windows Server 2008 will be launched jointly with Visual Studio 2008 and SQL Server 2008 on Feb. 27, 2008, in Los Angeles. As the most important enterprise launch in company history, this will kick off a "launch wave" of hundreds of worldwide events hosted by Microsoft. Read more.
Things that you need to do the installation is a computer at least with Pentium 4 HT or Dual Core, 1GB RAM, 10 GB hard disk space (inclusive 5GB system used). Most important, the product key! Once you get all things in your hand. Insert the installation DVD into your optical drive and boot the computer from it. You will see the screen as captured below. Select your preferred language, currency and keyboard layout and start the installation.

After you key in your product key, you will have 2 installation options which is full installation or choose to install the core component only. If you are unsure about this, just click the full installation and click next.
The rest of the installation process is pretty easy. Accept the licensing terms, click Next for a few times. The installation will run all the way to the end. It took me around 35 minutes to get into the desktop screen(installation on virtual pc). Nothing challenging. No difficult term for you to guess. No more boring blue-screen installation. Never ask you to enter any information except product key. No pre-settings needed. NTFS will be the default file system. Indeed, it is a very user friendly installation. Microsoft did a good job on this! The system engineers now will have more time for online games system compatibility testing!
I like this installation, it is easier compare to previous windows server version. Even compare with Windows Vista, for this server you do not need to do any diskpart or any command line to get the hard disk formatted. Aha! It is so simple to install Microsoft Windows Server 2008. Even my 5 years old little brother who know how to type and click can install it!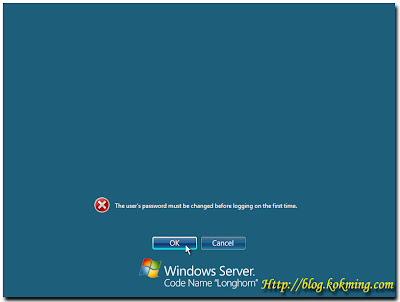 Next post, I will show you something beyond the desktop screen 🙂 Stay tuned.
Happy Installation!!