Some weeks ago, Khang asked me whether or not to join their forum gathering at Bukit Cahaya… I am not sure what are the activities but I got the urge to test my new toy so my answer to him is "Yes. If you have a seat for me." Hehe. I am too lazy to drive plus I really don't know where is Bukit Cahaya.
After that, I totally forgot about this "deal" until 2 days ago, Salty and Oreo came to Kepong Milwaukee to find Kepong F4 (we are actually F5 but we seldom get along) for drinks… Then they ask this question "Hey! Kok mING, are you going to join us for the Bukit Cahaya trip?" . Now, only I recall that is actually a "deal" previously. So I ask Khang for a friendly fetch but he needs to go milking fetch a girl. So I end up in White's car with Ryan!
At the very early morning, Ryan gave me a morning call. How sweet! Although I am ready and watching Astro before he calls me …
After the breakfast with two of them. We straight away drive to Bukit Cahaya.
We grabbed the ticket, read the map, go in and rent a bicycle! Yes! BICYCLE! We are going to ride it! … Huh?What?! I was not told that we need to ride… The last cycling that I did is like 8 years ago… At this point of time, I think of David! I need someone to tell me how to do a painless 3 hours ride… Please…
My bumblebee for the day!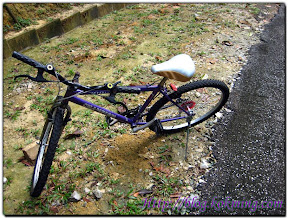 After we walk-ride around 10 minutes… We take our first rest! Yes! 10 minutes. Just nice for a warm up… Check the photo… How to ride in a group? How happy to get a rest? and… Ryan's bicycle is the tall-type of mountain bike…
After that, we are on our own… no more waiting for group. Just follow the road and ride till the end… I take quite a lot of "pauses" to take some photos. Hehe. That's why I am so slow that day…
Can you tell me what is this kind of tree or fruit?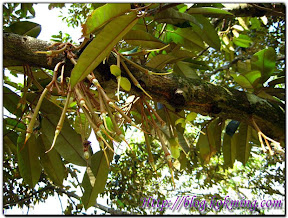 After like 1 hour ride. We reached the Cactus Garden… Pretty impressive where you see a lots of Cactus with flowers on top.
After wasting a lot of time, we go back to the starting point… just for the sake of visiting the fucking lousy Four Season House! It is the house where the workers will "decorate" it with certain season theme plus flowers according to the calendar month. The current theme is Spring. Ehhhh. Spring! Luckily it is not summer… Taken a lot of flowers, but due to the room light give not enough exposure to the photo. I am too lazy to edit it or to fake it… I post some "still" ok for you to see. If you want to go in there… My advice, please bring your food into it and have a picnic!
These are the other flower photos.
Lastly, we took off to have a Bak Kut Teh somewhere at Klang!
After a tiring Bukit Cahaya Cycling trip. We went exhausted, hungry and P.A.I.N.! Every one is so hungry and needed the food to recover the lost energy. Haha.
So we headed to a Bak Kut Teh @ Klang. I don't know where is the exact location but Klang! See the photo :xd:
See the shop name? Aeroplane Dry Bak Kut Teh! … Don't ask me what is the FISH (blue character) means…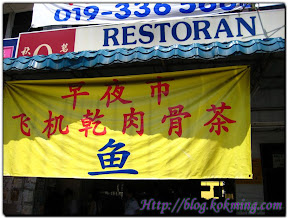 We are separated to 2 tables, orders 4 bowls (2 wet, 2 dry) for each table.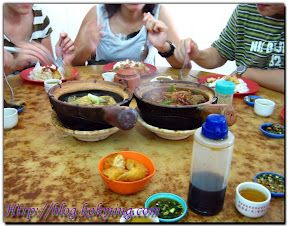 I enjoyed the dry pieces because it is very tasty and spicy. Hehe. The one with soup is quite ok but not as delicious as the one Ka-Ka Bak Kut Teh nearby my house… 8 people on table and eaten RM 68.00. The price is not expensive but the portion served is kinda little. Haha. I am the big eater! 😛