Today… at the early morning. David told me, "hey, RHB Bank got phished!" . First in my thought "Who cares? Not my money!" but a seconds later. My second thought "HOLY SHIT! I still have RM 7.14 in my very private RHB Bank account!!"
Then… I quickly go to check the google and local news website for the news… hm… I could not get any news related to that, so I thought it is only a minor phishing case on David alone. At this point, I switch to my Outlook Express. Oh My GODNESS, I receive at least 20 phishing emails 🙁
Here is it! Have a look…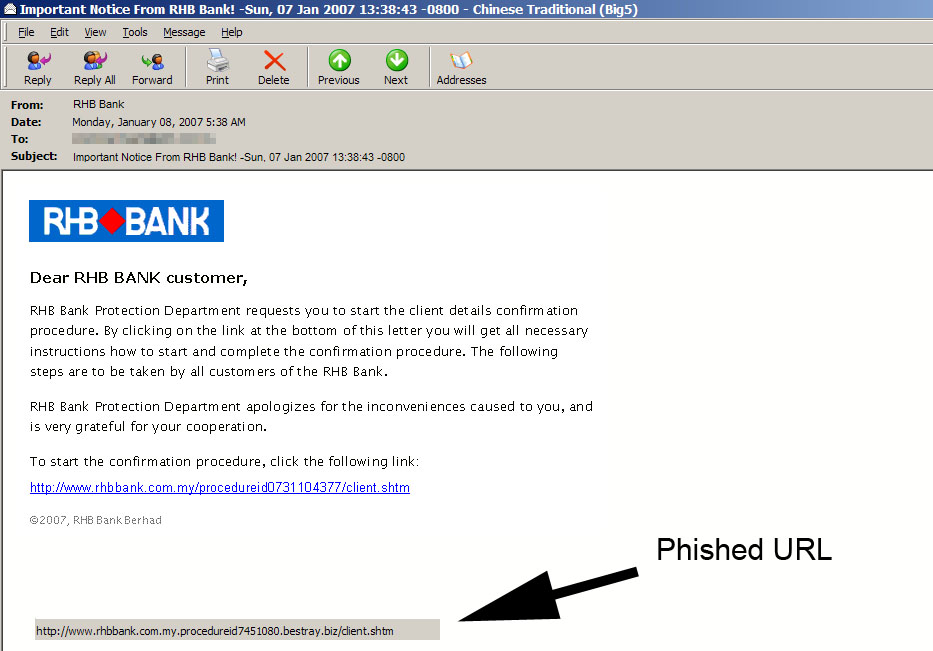 After that, my anxiety started to hunt me! You know… RM 7.14 is not a small amount to me! It is equivalent to 1 day of my transportation fee or 2 lunch + 1 soft-drink! I fast fast log in to my RHB Bank online account… hm… bad news. Too long period never login, account went inactive already 🙁
Never mind, the website is so friendly! It has a number to dial for panic support! I called and the customer service is so happy to help me to reactivate my account. Everything goes so smooth unlike TMNET!
Before I say byebye to the customer service. My anxiety forced me to ask her about the phishing email.
After she heard my case, she sound so excited and so serious. Instructed me to delete it immediately and never open or click any link on it~
And she ask me to send a sample for RHB Bank I.T. Departmant to investigate… here… you must wonder… she asked me to delete all phishing emails immediately, but now she is asking me to send a sample to her? Is she trying to test my IQ or she thought I am play play with her? Ok… Since I have more IQ than a computer. Of course I can send a sample to Customer_Service@rhbbank.com.my
Oh yeah. I sent. I did my duty as a helpful client 😀 I feel so great after that.
Now, I have to thank you for reading this far. … … This part, I promise you will smile or laugh 😀
After lunch, I check my mail again. Apparently I got an reply from RHB Bank…
See the screen below!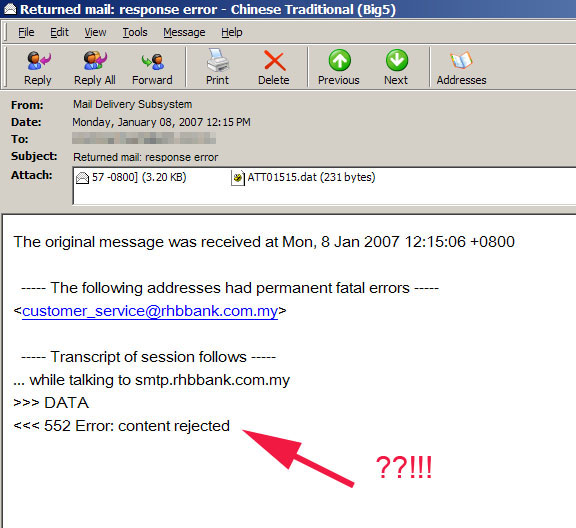 Those fools! Ask me to send a phishing sample to them but they reject the content… So what is the purpose of asking people to send to you? haha That's the best security… best practise and no wonder they do not aware of it becuase nothing related to this phishing can reach to their mailbox… Sometimes, when you do something, I really advice you to think twice. Do not act like RHB Bank…
First, ask me to delete but need me to send a sample after that…
Second, ask me to send the sample but reject it…
The sequence is incorrect…
It should be send a sample and delete, receive my email and then only reject others.
The morale of the story! We must know the sequence of every procedure so we will not create any fuckups!
🙂