1300889515… is the number that all Malaysian Internet surfers might not forget for the rest of their life…
It is not a number for emergency. This number cannot help you in anything but to let you have a proper channel to release your anger. This is the TM Net CustCare hotline number. You will never find another great ISP as this. They are really make Malaysian feeling "Proud to be a Malaysian" and "Malaysia Boleh!".
TM Net "boleh" in:
1. Widest coverage for Internet in Malaysia. Without it, Malaysian cannot communicated with the world! As a result, it created the largest whine community against its service quality! Can you imagine that the service can be suddenly disconnected and only resume few days later? especially during weekends… and they still dare to BILL you on time!
2. The first service provider that can ever offer their services on BEST EFFORT BASIS… How on earth that this kind of quality measurement / objective can be announced to the public… Did the industry has its standard to grant the license to the qualified candidates only? Why this BEST EFFORT BASIS can be implemented… All I wanted to say… Can I pay your TM NET bills on my BEST EFFORT BASIS too. I really wish it can be happened. Let's strike in front of the TM Net head quarter.
3. The best IVR that I had ever encounter… They will be very honest to tell you that they are facing problem and all your service interruption is because of that, so they are sooooo sorry and apologise with those IVR recorded voice. You will need to wait at least 3 minutes(because of stupid recorded sound and their songs!!) if you really wish to listen to a REAL customer servicer officer reply, you better prepare you very best whine speech or complaint essay. You must Fuck them! FUCK those DOUCHEBAGS HARD. You deserve the rights to shout. You pay them every month, you did not hire them but you pay for the service! When you get no service means they are not giving you what you deserve! Go shout! GO Malaysian, GO!
4. TM Net is the highest speed broadband provider in Malaysia… yeah! Sounds cool… not! You will always get at max 70% of the advertised speed. Haha, if you going to question me, why it cannot be max speed? The official answer is listed on the item 2. Best effort basis service! This rocks! why not next time they advertised 100mbps connection as those First World Country and provide the Third World connection to subscribers? Hey! If you are marching towards Wawasan 2020, you gotta stop providing your services with Third World Mentality!
5. The only service that gives you no satisfaction but keep draining your money into their pockets! Yeah! I am serious!! As serious as I love you!!! Since I am soooooooo unhappy with the service. I can always terminate it right? … I tell you… in Malaysia, we are not really good in reading those words with font size 5! On their service contract, they did mention if a subscriber wanted to discontinue the service. They must be subscribed to the service for at least 12 months or willing to pay up to 12 months in order to un-subscribe. WooooHooooo! You see now… The power of "Black and White". Do you ever have the feeling that you betrayed by your country which always says "Malaysia Boleh" but end up… I boleh, you tak boleh (this mean I can, you cannot). All your money belongs to me! Har har har har har
6. Now you may start to wonder. Why today Kok Ming is so free to write about something which every one knows but useless? Why Kok Ming is soooooooooooo eager to blog this useless speech and none bother? The answer is….
Thank you TM Net. You makes me has the time to compile this blog entry. So I would like to write something about you in order to show my most sincere appreciation.
My internet connection is down since evening… went up for 1 hour and down again… I check the speed from the modem that I acquire from TM Net… 160kbps up… 32kbps down. It definitely rocking for dotA, RANOnline or my porn download!! see picture below as a prove.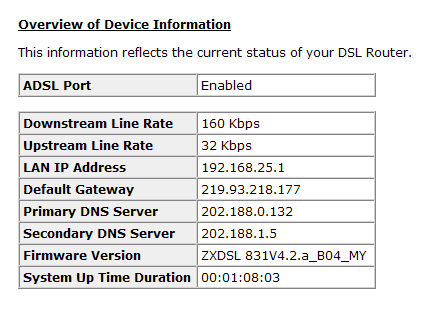 (160 Kbps / 1024 Kbps) * 100% = Wow! That's below 70% of the advertised speed. So I go to reset the modem and hopes it will be better……. Dang! I hit the jackpot! The modem is unable to establish the PPP link now. Give me five! no… I am going to warm the bed for you now.
Good night!